My mom has always supported me through thick and thin. She has always been there when I needed her even when I'm away in college she is always checking on me and making sure I am ok. I love her to infinity and back and I hope she wins this package because she deserves it. Especially with her being sick and all her health issues she really needs some joy to spark some happiness in her life. Thank you!
My mom passed away my sister Angel held all of the family together and still does to this day. She is just like our mother is always there for everyone always putting herself last
Her heart of gold for everyone she comes across ❤️
She has always been there for me No matter when or how I needed her. No matter how old I have gotten, she has been there and loved me and supported me and encouraged me the whole way. Now with my own son, I have seen her blossom and transition into a mamaw. My 5 year old son adores her. She is his best friend. I see her he for him, everything that she was for me. Doesn't matter her age or if she's had a long day or if it's silly, she'll ride go karts with him, she'll wrestle him, color and make believe. She always speaks to him like an equal and listens to him. Makes him feel seen feel known and loved. Makes him feel big and important. And I can never thank her enough for that.
I am nominating my step daughter Brianna Dockery! She is a single mother who receives no assistance I.e child support/government wise. The father is completely out of the picture. She works a full time job to support her and her18 month old daughter Eleanor. Even before Eleanor was born she was a star mother. She had pregnancy complications and was admitted to the hospital a month before Eleanor was born. After Eleanor was born she had a few issues and they had to spend 15 days in NICU. It was a very scary situation for a new mother. She handled it like a professional. I have very many reasons I am proud of her another reason is she took her tax money and paid off her car just to be able to afford a home for her and her daughter. She spends every second with her daughter when she isn't at work. She never takes a break and never takes a second for guaranteed. She is truly a star mom!
My mom has always been there no matter what most of the time having to be dad also. When I was 15 yrs old I had a 21lb tumor and cancer cells in my uterus resulting in a complete hysterectomy I had to learn how to walk again and was in hospital 2 mths. My momma never left my side. Flash forward 2009 she had her mitral valve replaced al.ost killing here then, it's actually killing her now. She lives in constant pain her heart rate is 45 and thy have already told us it's anytime. My momma is a Rockstar she still shows up and does everything she can for us. She so deserves to feel special! Please choose my momma
my mom has taught me everything i needed to know to become a mom myself. she was diagnosed with lung cancer abt 3 weeks ago & it's been hard in her. this would be awesome if we would win!! she's such a kind hearted, good will loving mama/nana!!!
My mom is a star because she has always been there for her kids and grandkids even if they just wanted to talk to her
She the best, always giving but not receiving. She totally deserves this
My mom was always there for me. She loved me unconditionally. She was my best friend after I grew up. She would come to my house as an adult when I was sick to take care of me. She was the one person that was there to help with whatever I needed any time. She was the only person I talked to every day. She taught me everything I know; so many life lessons. I'm grateful she taught me to cook. I now carry on the family tradition of making her dressing and banana pudding on holidays. She loved her grandkids more than anything. She has been gone almost 9 years. Unfortunately, my son was only 3 and has had to grow up without her in his life. It has been so hard being a first time mom and her not being here. Time does not heal all wounds and grief never ends. I miss her more than I can express with words. The pain is most difficult on Mother's Day. Thank you mom for always caring for and loving me. Thank you for teaching me how to be kind, brave, generous and so many other things. I will hold my precious memories of you close to my heart until we meet again.
My mom is a star because she raised 7 kids & help raise grandkids and at age 83 she is still babysitting great grandkids. She is a 2 time breast cancer survivor, last one was at age 80. She has buried to children who succumb to cancer. She has endured so much in her 83 years and she has prevailed it all. My mom is so awesome and deserving. God Bless you and thank you kindly.
My mom is always making sure that everyone is taken care of. She goes above and beyond to make everyone happy.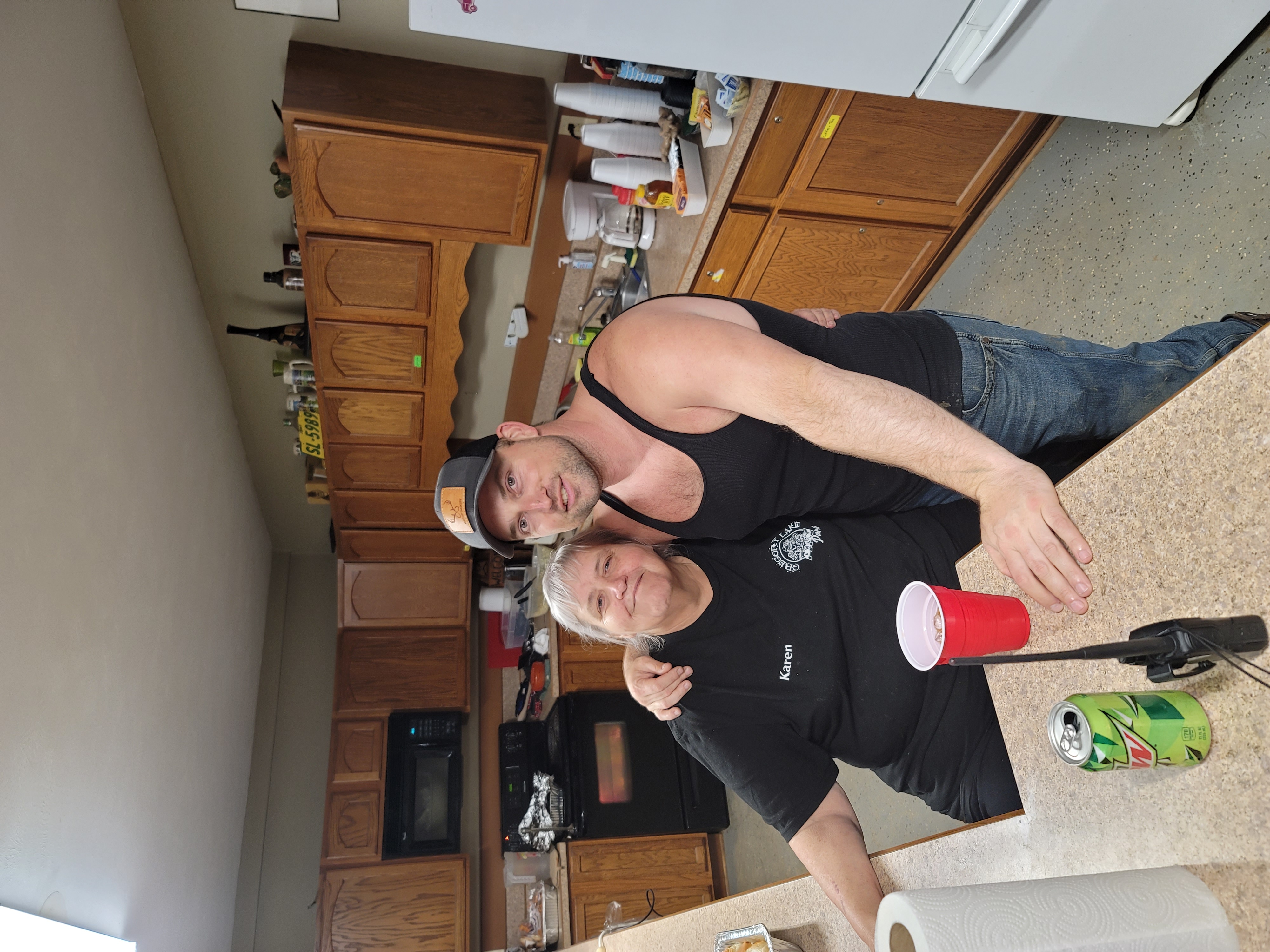 My mom is the GOAT of moms literally. She goes above and beyond for anyone she knows. She helps her friends with anything they need, she loves our family like a mamma bear should, and sometimes rarely takes time for herself. I have watched my mom shake the hands of famous musicians and treat them like they are family, and with strangers and treat them just the same. My momma would give you the shirt off of her back if you needed it. She has thrown weddings together with 10 days notice, cooked for over 100 people in 2 weeks notice all to help her family and friends. Mom is an amazing mimi to any kiddo that comes to our home, since my husband and I are foster parents there have been a few!! Mom shows them love like a grandmother should naturally and helps them learn and grow. She doesn't have "friends" they are all family to her and she loves them each like they are family. My mom deserves this as she gives endlessly no matter the situation. It's hilarious that the name Karen is meant for someone that is full of drama and nonsense when my mom is KAREN the opposite and she is kind and caring, maybe they used the wrong name for that term.....
i don't think i've ever seen someone more self driven! she i'm truly my inspiration and such an amazing woman to look up to! no matter what i have thrown myself into she has always been supportive and right beside me the entire time. she's driven hours on end for student council, listened to me cry for hours because i'm so stressed, and so so many other thing that i cant write them all on here!
Mama Debbie is the best Bonus Mom I could have asked for. She didn't hesitate for a moment in accepting me as one of her own after finding out I existed a few years ago. She has been nothing but supportive in all of my endeavors and is an avid listener to the station all the way from Colorado. She makes the best peanut brittle for me at Christmas and always makes sure to send extra bags along for my peeps in Murfreesboro and the rest of the Zoo Crew so that don't have to share from my own stash. She is always available to watch my Colorado niblings and makes sure I'm in the loop with the goings on out west. As Bonus Moms go she really takes the cake.
Mama San helped me become the awesome Pineapple Guy that I am. Between my ages of 10-14 she worked three jobs as a single mom to support us and make sure that I never felt like we were doing without. She showed me the benefit in treating friends like family and helping out others even when we didn't have a lot to offer. She was always willing to lend a helping hand to a friend in need in any way that she could. When she got remarried and we were taken care of she still worked two jobs and sent money back to the Philippines to help her sisters put several of my cousins through school. I will never be able to thank her enough for everything that she has done for me over the years. I have no doubt that I wouldn't be as awesome as I am without her awesome example.
My mom she's my hero she taught me had to be myself never give up on myself she's not a wonderful mom she a great nanny to her grandkids we love her I would love for her to win this she's not just my mom she my best friend
My mother was a single mama for 8yrs until she married my (step)daddy. She worked hard to provide for me and make sure I had what I NEEDED. I might not have had namebrand clothes or the newest gadget but what I had and still have is love Through all the mistakes and poor choices I've made, my mama still loved me through it all. When I needed a shoulder to lean on, parenting advice or financial help, she was there. No judgment & no "What you should do." My mother has gone above and beyond her role of mother to me and my siblings!
My Mom is a STAR because she has always went above and beyond at everything she has accomplished in life. From being the best daughter, sister, wife, aunt, mother, grandmother! She has spent her life raising kids, working a full time job (sometimes 12 hr shifts 7 days a week) but she always made it to every event. She made sure I went to church, achieved good grades and let it be known I could accomplish anything I set my mind to!
Honestly everything about my mom. She's one hell of a mom. She would do anything for all 3 of us. She is who I wanna be when I grow up. She is my inspiration. She is my role model. She is my shoulder to cry on. She's my best friend, she deserves the world! I'm a single mom and she is always there and helps me in anyway that I need. I'm grateful to have a momma like her!!!
My mom is my best friend, my secret keeper, my go to for just about everything. She loves God and her family with her whole being.
She always put others before herself. She would rather do without then anybody else.
She's the most selfless person I know she would give the shirt off her back she's the best mother I could ever ask for for my kids and we love and appreciate everything she does for our family
She always goes above and beyond for me and I couldn't imagine my life without her. She treats me like her own. She takes me and my siblings to church. She is all of our role model. I love you mom
My mom is a star because she is such a hard working, amazing mother of 5, grandmother of 14 and great grandmother of 15. She is 65 (ssshhh I didn't tell. LoL) she works 2 jobs and recently lost her husband of 12 years April 6. He had went in to hospital March 28 n had emergency surgery on the 29th to remove 18" of his bowel due to having blood clots. After a few days in ICU/CCU they moved him to a regular room where he was doing a lot better and was hoping to get to go home soon. The morning of the 6th they called my mom n told her he had to be moved back to ICU cause he was having difficulty breathing and having some bleeding. By the afternoon they called her back n told her she had needed to get to the hospital. They had put him on ventilator n wanted to know the next steps on what she wanted done (this was all a surprise and she had to make that decision to make him as comfortable as possible and of course the one thing that was hardest, if he wanted to have CPR done if need be, this is something that they had never discussed so that was a hard decision to make) the time he was in ICU that day they had to remove 3 containers of blood from his stomach. We don't know the cause of all this so it blew our mind on it all happening so fast when one day he was fine and then the next all this going on. I got to the hospital by 8 pm to be with her and one of my brother got there about 30mins after I did. By 1038 he passed away while me and my mom was holding his hand. When I first got there to see him I leaned in and whispered to him that we loved him and Mom would be ok and taken good care of. She was his world. Before they married he had never been married before and no children. So his first time being married to my mom he also got us 5 kids and all the grandkids along with her. He use to be a heavy haul truck driver up until a few years ago when he had gotten sick while out on the road and also was told he was full blown diabetic. My mom is such a strong willed person she don't ever show emotion and always says she is fine but I know it has to be hard on her. This is the second time she has had to go through something like this. She had a husband of 13years pass away of lung cancer back in 2008. She has seen and dealt with so much she deserves something good be done for her. So this would be something great for her if she is chosen for this contest.
My mother manages a clothing store homeschools 5 of of her 8 children and had 7 of those children at home!! She is definitely a star and about to be a star Granna!! She works so hard everyday including Sunday and if anyone deserves this she definitely does!!! This would mean to the world to her!!!
My mom Has been a star since I can remember. She had 4 natural born children plus she loved my 2 half sister unconditionally as well. Through all sickness and surgeries she still got up and made sure we were fed, clothed, bathed, and educated. She was a victim of domestic violence from my father for 22 years and even after she got the courage to leave she still remained cordial with him for the sake of us kids because she knew how much we loved him. Here recently she had surgery to remove basal cell cancer from her nose and had her nose reconstructed afterwards and never once complained nor mentioned her problems. She works a full time job as a server at the American legion in central city kentucky and she loves her customers and veterans just like her own family. She helps with fundraisers and on Christmas she helps with auctions to give the kids of muhlenberg county a Christmas. She feeds veterans on Saturdays and on major holidays.i don't think words can describe how good of a person she is and I will never be able to repay her for all the things she's done for me and my kids and even if she doesn't win she's still a winner in my book. Her birthday is on the 20th so she celebrates 2 special days at once and this I want to celebrate her extra because she deserves it and way more. Thank you mom for loving me through all my sickness and nonsense no matter how much I tested your patience you never gave up on me. Happy mothers day from me and the kids we love you to heaven and back again!
My mom sadly passed unexpectedly in 2020. But my granddaughter MacKenzie age 8- wants me to enter her mom. My daughter. Samantha Hughes. She says her mom is the best mom ever. I agree. She lives for this child!!! Not waking moment without her. Or asleep haha. Never a break!! Believe me!!!! She says- "Mom works very hard for very little and I think she deserves this gift. She does everything for me." She does so much for this child. They/we r going through a lot. A big fight. She says, "Mom won't stop fighting for me" My Mom Is the best. She does more for me than anyone." They have a strong bond. She says, "mom Loves me more than anything in the world." "Literally!"
My mom has supported me through thick and thin. My dad died when I was 14 and she struggled to support me and raise me right. Even when I battled addiction she was there to help me get through it and stuck by me while I worked to rebuild my life from the bottom up. Without her I would not be where I am today! Forever grateful and thankful for her.
She's my mother in law who's been an amazing mother figure in my life. She's a very caring lady not only to her family, but to the community as well. She can always brighten anyone's day and make sure you have everything you need, even when you're not feeling the best. She's an inspiration to me and has always made me feel like part of the family and a bonus daughter as well.
My mom is an awesome grandma to my 5 kids!! She helps with whatever we need from picking up from practices to splitting directions to go to different events!!! She's always just phone call away…
Out of all of the holidays, Mother's Day is my mom's favorite. It's a day where she's celebrated by the love and company of her family. And It's always centered around food- and my mom loves to see her kids eat! From the time we were born, her three kids have been the center of her life and happiness. Our wants, dreams and hungry bellies, have always came first and foremost- and still do as adults. Her fried chicken livers and healing hugs are enough alone to keep us all coming back home. Our happiness means everything to my mom. And in return, her health and happiness means the world to her children. I've been fortunate to travel the world and enjoy exotic lands and beauty; but nothing will ever take the place or replicate the love, tolerance, forgiveness, acceptance, support, and home cookin' of my moma. (I know I'm her favorite). 😉
Always a go getter. Has never always been easy I single mom of 8 kids and didn't complain and always made sure we had what we needed if it wasn't for her. I'm not sure where I would be.
She is just AMAZING! she has always been there for me through thick and thin!
My mom is 89 years old. She still drives, cooks, clean, mows two yards (with a zero turn mower), weed eats, push mows too. She does her own shopping, goes dancing and goes to church every Sunday. She still finds time to do little things for children and grandchildren too. My mom has alway been a hard worker, alway keeping her yard nice and neat. She is a amazing MOM.❤️!